Hi semuaaa!
Hari Jumaat adalah hari yang paling best sebab boleh balik!! Oh yeah!
Class pagi pulak tu,tapi sebelum balik kena marah dulu. Instructor program memarahi the whole group sebab still tak dapat capai target untuk Nursing Board exam. Bukan senang tau nak capai target tu.
Ada 146 procedures untuk dipenuhkan dan ada 12 mastery skills. To register untuk Nursing Board exam, a candidate or a student nurse MUST saya ulang MUST fulfill 85% out of the 146 procedures dan fulfill all 12 of the mastery skills. And bukan senang-senang je nak dapat cross untuk procedure-procedure tu. Student nurse must be assessed by the nurse instructor while doing the procedure and lepas tu ada Q&A session pulak untuk dapat cross the procedure.
It depends on the nurse instructor nak bagi soalan senang ke susah. Huhu. Scary! Tell me about it!
Tapi alhamdulillah for me I dah capai target tu. Yang tinggal adalah STUDY je. Huhu.
Setelah bla bla bla memberi ucapan selama ONE WHOLE HOUR, end up habis at 12.30 noon (masa yang telah di attack untuk siap secepat mungkin!). Lastly she said yang lecturer mental health kitorang nak masuk so timeline telah lari sedikit di situ.Huhu.Nasib baik lecturer cakap sekejap je,lepas die cakap "Ok class,Thank You" terus Su, Mastura dan me cabut balik.
Oh encik Amran telah setuju menghantar kitorang ke KTM Nilai dengan harga RM 3. (berbaloi la tu,kalau free bankrupt la dia) Hihi. Amran ni pon classmates kitorang. So dengan pantas nye kitorang siap dan moving on dengan Amran.Heeee :)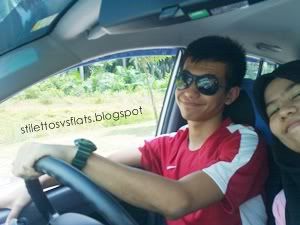 itu encik Amran & Ain :)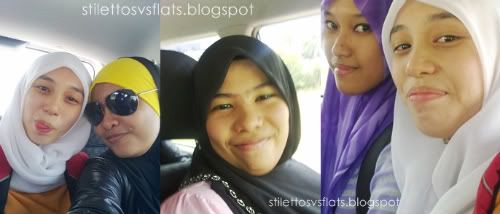 itu pulak Shila,Me,Ain&Mastura :)
So setelah sampai ke KTM beli tiket dan selepas sejam tiba di KL Sentral. :) Di sebabkan terlampau lapar lepak jap makan KFC. Sedeh woo makan sorang tapi janji kenyang! Heee.
Dah kenyang naik Putra LRT dan mama jemput balik rumah.
Home sweet home :)
Rindu dekat si Gemok ini.
So ape plan semua untuk weekend ni?
B.